The Black Canyon Quilt Show annually operates a Boutique, open to the public, which features donated, hand made needlework items. All proceeds from the Boutique sales go directly to a Montrose 501c-3 charitable organization.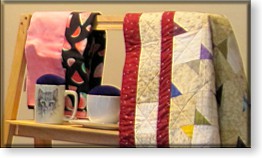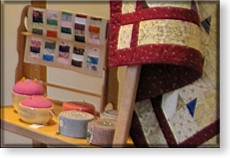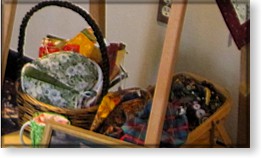 The recipient chosen for the 2023 show is Shepard's Hand of Montrose
The Shepherd's Hand, Inc.
 "Value to the Community" summary
The Shepherd's Hand (SH) is a 501c3, Colorado non-profit Corporation dedicated to providing for the physical, emotional and spiritual needs of the "homeless" and underserved in the Montrose community. Our goal is to provide individuals and families with housing, food, clothing, counselling and daytime and night time shelter and assistance in transitioning to employment and life "off the streets".
To accomplish our mission, we have established a day center at 505 South 2nd Street in Montrose which is open throughout the day Monday through Friday.  During this time, individuals can come in out of the weather, have access to showers, clothes washing facilities, hot food, and clothing. Life skills training is available as needed or requested.  The SH works collaboratively with other non-profits in the community to provide professional counselling on site in private counselling rooms. Access to wall lockers for storing personal items and receiving mail is also available. A separate food distribution point is available at this facility where food is provided as needed. 
Their website is www.shepherdshandmontrose.org
Past recipients of Boutique funds have been:
2022 Black Canyon Boys and Girls Club
2021 Sharing Ministries
2020 Sleep in Heavenly Peace (SHP)
2019 Sleep in Heavenly Peace (SHP)
2018 Kid's Aid
2017 Region 10
2016 Sharing Ministries Food Band
2015 Passage Charter School
2014 Montrose Regional Library Permanent Book Fund
2013 San Juan Cancer Center
2012 Haven House
2011 Samaritan Aviation
2010 Christ's Kitchen
2009 Hospice and Palliative Care
2008 House of Promise
2007 Dolphin House